Top Web3 and DeFi Fundraising in 2022 (Updated Monthly)

Khashayar Abbasi
Last updated 16th Feb 2023
The hype around the metaverse and Web3 went up a notch after Facebook announced their rebrand to Meta in October last year.
The move brought even further momentum to the booming NFT industry and served to legitimize the technology behind cryptocurrencies.
While there isn't a set definition of what Web3 means, it is a term used to broadly describe the next iteration of the internet that incorporates blockchain technology.
Through this, users can exchange services without a central authority, taking power away from large corporations and putting it back into the hands of individuals.
If you've recently bought an NFT or traded on decentralized exchanges, then chances are that you've already interacted with Web3 technology without knowing it.
With crypto having minted many new millionaires and billionaires, there is a significant amount of money being pumped into this space.
There have already been numerous fundraising rounds held for companies in the Web3 industry this year and in this article, we look at the biggest ones per month.
We will update this article on a monthly basis.
January
Here are the top fundraising events for web3 companies in January.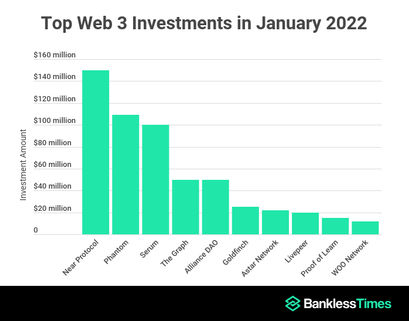 Near Protocol - $150 million
Notable investors: Three Arrows Capital, Alameda Research, Jump Capital, Andreessen Horowitz (a16z), Mechanism Capital, Dragonfly Capital, Amber Group, and Zee Prime.
Phantom - $109 million
Notable investors: Paradigm and Andreessen Horowitz
Serum - $100 million
Notable investors: Tiger Global Management, Tagus Capital, and Commonwealth Asset Management
The Graph - $50 million
Notable investors: Tiger Global Management, Fintech Collective, and Fenbushi Capital
AllianceDAO (DeFi Alliance) - $50 million
Notable investors: Tyler and Cameron Winklevoss, Bobby Bao, and Devin Finzer
Goldfinch - $25 million
Notable investors: a16z, Coinbase Ventures, SV Angel, BlockTower Capital
Astar Network - $22 million
Notable investors: Polychain, Alameda Research, Alchemy Ventures, GSR, Injective Protocol, Scytale Ventures, Animal Ventures, Crypto.com Capital
Livepeer - $20 million
Notable investors: Tiger Global and Alan Howard
Proof of Learn - $15 million
Notable investors: New Enterprise Associates, Animoca Brands, GoldenTree Asset Management
WOO Network - $12 million
Notable investors: Binance Labs
Sources: Top 7 ICO, Medium, Twitter

Khashayar Abbasi
Khashayar discovered Bitcoin back in 2014 and has since spent countless hours researching the different use cases of cryptocurrencies. He has a bachelor's degree in International Relations and has been a writer in the financial services industry for nearly half a decade. In his spare time, Khashayar enjoys photography, cycling, and ice skating.