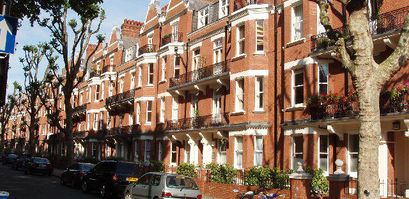 Can you afford to buy a flat in London?

News Desk
Last updated 5th Aug 2022
With the property market once more on the up and rents forcing a lot of tenants into financial difficulties, many people are beginning to think about buying a house and getting themselves on to the property market.
And as London is home to more people and more properties than anywhere else in the country, there's a good chance that, if you're considering buying a house of your own, you'll be in the capital city.
So with London full of expensive streets, pricey postcodes and 'up and coming' areas, what sort of property can you expect to buy, and can you even afford to buy a flat in London? We spoke to the team at Robert Irving Burns who specialise in residential property in London to get the facts.
 Average property costs
As property in the different parts of London can vary so dramatically in value, coming up with an average price for flats in London is difficult.
For example, the average price of flats in the centre of town recently broke the £1million barrier, with the biggest increases in price in Maida Vale, St Johns Wood and Islington.
Whereas in other parts of London like Walthamstow, the average price of a flat can be as low as £188,000.
 If you're not familiar with the capital, this can make calculating your budget difficult as it may be hard to know exactly what you're looking for.
The best way to solve this problem is ask agents with local knowledge exactly what each area offers and start whittling it down from there.
Average wages
Although house prices are considerably higher in London than in the rest of the country, the good news if you're living here is that wages are too.
In fact, the average wage in London is now over £41,000, that's around £15,000 more than you could expect to earn in Manchester and almost £10,000 more than in Guildford.
This extra income should give London buyers a bit of an edge when it comes to deposits and mortgages, but as the people you're competing against will probably be earning as much as you, it may not actually make much of a difference.
Deposits
One of the biggest factors affecting the sort of property that you can buy is the deposit that you're able to save.
And although it is possible to purchase a flat with a relatively small deposit, the more you have the easier it will be to get a mortgage and the smaller your repayments should be.
The minimum deposit that you'll need in order to secure a mortgage will vary and can be as low as 5%, but try to scrimp and save as much as you can in order to get the best deals. If you're the type of person who struggles to save long them then you may find it beneficial to speak with a professional, I found a helpful guide which gives a good example of the types of financial planning assistance that is available.
 Getting a mortgage
Once upon a time mortgages were calculated on a fairly simple system. Your wage would simply be multiplied by a factor (normally three) and that would be the amount that you could borrow.
However, following the credit crunch lenders now take other variables into account including your personal expenses and the impact of future interest rate rises as well as your monthly income.
This means that is can be difficult to work out exactly how much you'll be able to borrow without speaking to an advisor, so contact your bank to discuss your options.
Buying costs
On top of the purchase cost of your new flat, you'll also need to take into account the associated buying costs involved in the process.
This will include the cost of solicitors, surveys and other things that you won't even have thought of yet and could amount to as much as £2000-£3000, a considerable amount for a first time buyer.
Finding your way through the London property market can be confusing, but the reward of having your very own slice of the capital could be considerable.
So save up, stick at it and hope for some good luck and you could be moving into a brand new flat before you know it.
Alternatively if the prospect of London feels to much like a distant dream because of the financial restraints then there is a wealth of property just outside of London. I live in Watford (about 20 minutes outside of London by train) and the property prices are significantly reduced from the capital and still easily commutable. To give you an idea of the difference in property prices review this local estate agent's properties currently available.