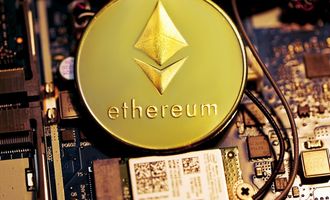 Ethereum hits new ATH of $4,643

Daniela Kirova
Last updated 12th Apr 2022
Ethereum, the second-biggest cryptocurrency by market cap, hit an all-time high on Wednesday, rallying on news of broader blockchain adoption and catching up with Bitcoin's ascent. The ether token, on which the Ethereum blockchain is based, reached $4,643 in Asian hours. This takes its gains to over 10% just this week. The second crypto also broke the previous day's peak of $4,600.
Momentum across the board
Ever since Bitcoin reached a record high of $67,016.5 on October 20, other tokens have followed suit. These are on Layer 1 networks, which is the base layer of blockchain networks. Bitcoin is currently trading around $63,000. So far this year, it has gained about 117%, which is far less impressive than Ethereum's sixfold growth.
Ryan Rabaglia, managing director and global head of trading at digital asset platform OSL, commented:
Since the market reversal at the end of September, ether's strength has been moving in stride with BTC and other majors. Ethereum has been the clear winner of the Layer-1s for what we believe will be a substantial shift in a potentially prolonged market sentiment uplift. Ethereum will also continue to play a major role in the NFT and metaverse ecosystem build out.
A number of blockchain tokens, including BTC and ETH, are being pushed up higher and higher by the news of cryptocurrency adoption by banks, launches of Bitcoin-based futures ETFs, and growth of NFTs on virtual gaming platforms. In addition, investors have a need for diversification in an  environment tinged by inflation concerns.
Smaller tokens like Decentraland have seen growth after Facebook rebranded itself into Meta in a bid to embrace the "metaverse", a shared virtual environment. The META token has gained 225% since the rebranding announcement.
Crypto prices continue to soar
On November 3, cryptocurrency prices continue to rise. According to MarketWatch, the global cryptocurrency market cap saw a 3.36% increase over the last day. In total, crypto market volume has increased by 50.53% in the last 24 hours.
Bitcoin's dominance has dropped by 0.27% so far today. It was around 43.43% at the time of writing.
The biggest winner so far today is Chain (CHN), currently trading for $3.10. Its fully diluted market cap is $413,011,879, up 840.19% in 24 hours. Its trading volume in the past 24h was $547,719, up 714.06% from yesterday.
AUM also at record high
CryptoCompare data show that assets under management (AUM) in digital investment products have reached the record high of $74.7 billion, up 45.5% in the previous month alone.
Daniela Kirova
Daniela is a writer at Bankless Times, covering the latest news on the cryptocurrency market and blockchain industry. She has over 15 years of experience as a writer, having ghostwritten for several online publications in the financial sector.