Loopring price prediction: LRC has gone parabolic. Now what?

Crispus Nyaga
Last updated 11th Aug 2022
The Loopring price is still holding steady as investors remain optimistic about its demand. The LRC price has jumped in the past seven straight days and is at an all-time high. It is trading at $3.45, which is about 845% above where it started the month. This rally has brought its total market capitalization to more than $4.5 billion, making it the 45th biggest cryptocurrency in the world.
What is Loopring and why is it rising?
Loopring is a layer-2 blockchain project that helps to scale finance platforms that are built on Ethereum's blockchain. It helps users have access to a fast, low-fee, and high-speed platform for swapping, trading, and liquidity providing solutions. 
Indeed, the Loopring protocol helps to scale these solutions by having significantly higher speeds. In its website, it claims that its product offers about 1,000x speed that of Ethereum. Its transaction per second is about 2,025. Ethereum has speeds of less than 20 transactions per second. 
Loopring also has a market platform that enables people to buy and sell cryptocurrencies at relatively lower fees. It has also introduced a platform where people can buy and sell non-fungible tokens (NFT). In all this, LRC is the native token that makes these transactions possible.
1
Minimum Deposit
$10
Exclusive Promotion
More than 3,000 assets, including currencies, stocks, cryptocurrencies, ETFs, indices and commodities
Buy crypto, or trade cryptocurrencies via CFDs
This ad promotes virtual cryptocurrency investing within the EU (by eToro Europe Ltd. and eToro UK Ltd.) & USA (by eToro USA LLC); which is highly volatile, unregulated in most EU countries, no EU protections & not supervised by the EU regulatory framework. Investments are subject to market risk, including the loss of principal.
So, why is the Loopring price rising? There have been no major news from the Loopring developers. Therefore, in my view, I suspect that the rally is mostly driven by traders who want to capture the next big thing. Indeed, data compiled by both CoinMarketCap and CoinGecko shows that the volume of Loopring traded has been in a strong upward trend recently.
Another possible reason is that we may be in a Layer-2 season. In the past few weeks, other Layer 2 cryptocurrencies like MATIC and Arbitrum have also risen.
Loopring is not alone. In the past few weeks, we have seen many cryptocurrencies soar because of hype. For example, we saw the price of Shiba Inu soaring in October. Others that have gained momentum are IoTeX and Kadena.
Loopring price prediction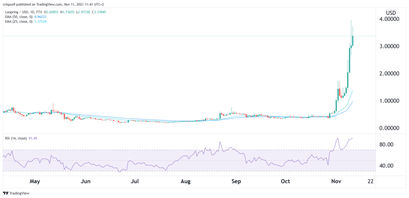 The daily chart shows that the Loopring price has been shifting into high gear recently. It has moved so far above the 25-day and 50-day moving averages, meaning that it is getting extremely overvalued. At the same time, the Relative Strength Index (RSI) has moved to the highest level on record.
Therefore, I suspect that this rally will take a breather soon as the momentum fades and as more buyers start taking profit. Therefore, I can't rule out a double-digit decline in the coming days.

Crispus Nyaga
Crispus is a financial analyst with over 9 years in the industry. He covers cryptocurrencies, forex, equities, and commodities for some of the leading brands. He is also a passionate trader who operates his family account. Crispus lives in Nairobi with his wife and son.