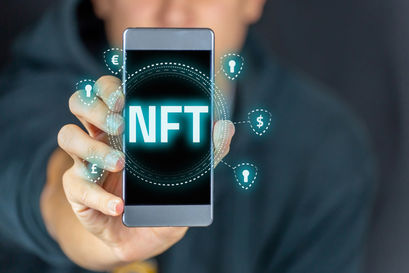 An NFT of the first SMS in the world sells for $150K at a Paris auction house

Jinia Shawdagor
Last updated 5th Aug 2022
A non-fungible token (NFT) of the first-ever SMS text message has sold for $149,729 at an auction in Paris. The auctioneer, Aguttes, disclosed this news on December 21. These funds will go to supporting refugees through UNHCR. Reportedly, the message was a 15-character text, reading Merry Christmas.
Reportedly, British telecoms operator Vodafone sent the message 32 years ago in 1992. Specifically, programmer Neil Papworth sent the message to a colleague, Richard Jarvis, who received it on his Orbitel 901 cell phone during the company's Christmas party.
The NFT is an imitation of the original communication protocol that transmitted the SMS. Apart from the NFT, the unknown buyer, who paid in Ethereum (ETH), will also get a digital picture frame that shows the mobile phone receiving the SMS and a 3-D animation of the same as a digital version. Papworth said,
In 1992, I had no idea just how popular texting would become, and that this would give rise to emojis and messaging apps used by millions. I only recently told my children that I sent that first text. Looking back with hindsight, it's clearer to see that the Christmas message I sent was a pivotal moment in mobile history.
1
Minimum Deposit
$10
Exclusive Promotion
More than 3,000 assets, including currencies, stocks, cryptocurrencies, ETFs, indices and commodities
Buy crypto, or trade cryptocurrencies via CFDs
This ad promotes virtual cryptocurrency investing within the EU (by eToro Europe Ltd. and eToro UK Ltd.) & USA (by eToro USA LLC); which is highly volatile, unregulated in most EU countries, no EU protections & not supervised by the EU regulatory framework. Investments are subject to market risk, including the loss of principal.
Using the power of technology to transform the world
Commenting on the company's decision to issue an NFT, Ahmed Essam, the CEO of Vodafone UK said the firm is proud to bring together cutting-edge technology from the past and the future to help people in desperate need of support.
Initially, Vodafone anticipated that the NFT would rake in around $200,000. While it fell short of this expectation, the obtained funds will go a long way in aiding UNHCR's mission.
According to Christian Schaake, the Head of UNHCR's Private Sector Partnerships Service, said,
Through this combination of ground-breaking tech and movement for social good, UNHCR can continue helping refugees and people who've been forced from home, giving them an opportunity to transform their lives and build better futures for themselves, their loved ones and communities they're living in.
Notably, this is not the first time UNHCR is getting involved with the NFT space. In the past month, the refugee agency sold a collection of 70 NFTs by Syrian-Palestinian cartoonist, Hani Abbas, to commemorate the 70th anniversary of the UN Refugee Convention, and the launch of UNHCR.
Jinia Shawdagor
Jinia is a fintech writer based in Sweden. With years of experience, she has written about cryptocurrency and blockchain for renowned publications such as Cointelegraph, Bitcoinist, Invezz, etc. She loves gardening, traveling, and extracting joy and happiness from the little things in life.