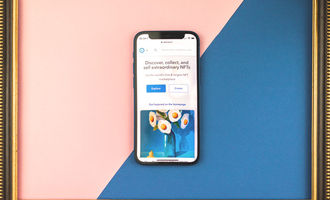 22-year-old Indonesian makes $1M by selling selfies as NFTs on OpenSea

Jinia Shawdagor
Last updated 12th Apr 2022
Sultan Gustaf Al Ghozali, a 22-year-old computer science student from Semarang, Indonesia, has become a millionaire after selling his selfies as non-fungible tokens (NFTs) on OpenSea. A report unveiled this news on January 16, noting that Ghozali took selfies over the past five years when he was aged between 18 and 22. His initial plan was to document each day on his journey to graduation.
According to the report, Ghozali captured the selfies either standing or sitting in front of his computer. After the NFT boom of 2021, the 22-year-old joined OpenSea in December last year and listed his NFTs at a base price of $3 on January 9.
While listing the images, Ghozali admits that he did not expect the simple, expressionless photos to attract serious buyers. However, he got the support of Indonesian celebrity chef Arnold Poernomo, who tweeted about his NFT collection.
His OpenSea profile shows that he captured 933 pictures to create a collection titled Ghozali Everyday. Notably, this collection borrows ideas from Beeple's Everydays: The First 5000 Days, which fetched a whopping $69.3 million in a Christie's auction last year.
1
Minimum Deposit
$200
Exclusive Promotion
More than 3,000 assets, including currencies, stocks, cryptocurrencies, ETFs, indices and commodities
Buy crypto, or trade cryptocurrencies via CFDs
This ad promotes virtual cryptocurrency investing within the EU (by eToro Europe Ltd. and eToro UK Ltd.) & USA (by eToro USA LLC); which is highly volatile, unregulated in most EU countries, no EU protections & not supervised by the EU regulatory framework. Investments are subject to market risk, including the loss of principal.
At the moment, 503 people have already purchased an item from the collection, and the floor price currently sits at 0.41 Ether (ETH). The collection has a trading volume of 366 ETH (approximately $1.2 million), at the time of writing.
A unique story in each frame
Reportedly, Ghozali customized each of the photos with some background information to make each NFT unique. For instance, he pointed out that he captured one of the selfies after receiving the second COVID vaccine.
While Ghozali did not disclose the highest amount he received for selling a single NFT, a report disclosed that his collection hit a floor price of 0.9 ETH (around $3,000) before plunging. Following the success of his NFT project, Ghozali made his first tax payment and announced this news on January 14.
On January 12, Ghozali tweeted about the progress of his NFT endeavor, saying only 331 NFTs are left and that he will not be listing more pieces in the future. He gave the purchasers of his NFT the freedom to flip the pictures or use them in any ethical way that pleases them.
Ghozali also appealed to collectors, asking them to avoid using the pictures in an abusive manner, seeing as this would make his parents disappointed in him.
This news comes as the NFT sector continues making moon shots despite the bearish sentiment in the crypto industry.
According to data from DappRadar, the NFT frenzy has seen the number of wallets connected to Ethereum NFT decentralized applications (dApps) grow by 43% since Q3 2021. Additionally, the amount of money generated from trading NFTs soared from $10.7 billion in the third quarter of 2021 to $11.9 billion in the first 10 days of 2022.
Jinia Shawdagor
Jinia is a fintech writer based in Sweden. With years of experience, she has written about cryptocurrency and blockchain for renowned publications such as Cointelegraph, Bitcoinist, Invezz, etc. She loves gardening, traveling, and extracting joy and happiness from the little things in life.