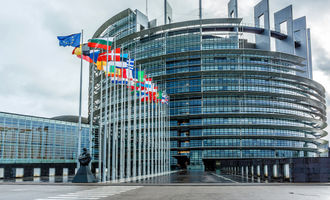 EU parliament puts off vote on a crypto bill over PoW mining concerns

Jinia Shawdagor
Last updated 12th Apr 2022
Stefan Berger postponed the vote, which was scheduled for February 28, indefinitely.
According to him, this delay seeks to address concerns that MiCA seeks to ban PoW mining.
EU regulators and lawmakers are calling for PoW mining, citing climate concerns.
The European Union's (EU) parliament has delayed a vote on a framework that seeks to regulate cryptocurrencies due to concerns over Proof-of-Work (PoW) mining. Stefan Berger, a member of the European Parliament's Economics Committee, announced this news via a tweetstorm yesterday.
Specifically, Berger said he canceled the vote on the Markets in Crypto Assets (MiCA) framework, which was scheduled for Monday, February 28. As a rapporteur, he emphasized that it is vital pointing out that people should not misinterpret the MiCA report as a de facto ban on crypto.
He added that,
The discussion about MiCA indicates that individual passages of the draft report can be misinterpreted & understood as a POW ban. It would be fatal if the #EU Parliament sent the wrong signal with a vote under these circumstances.
Bergen, however, failed to specify when the vote might be rescheduled. The push for clarification comes after reports claimed a leaked draft of the MiCA proposed the banning of cryptos in the EU due to environmentally unsustainable consensus mechanisms.
EU authorities call for a ban on PoW mining
MiCA seeks to create a framework that supports innovation and takes advantage of the potential of cryptocurrencies while preserving financial stability and protecting investors. If the EU enacts this regulatory proposal, it will replace the crypto frameworks of member states without each country reforming individual laws, a process that might lead to the banning of PoW mining.
Notably, lawmakers and regulators are increasingly suggesting that the EU enforce an outright ban on PoW mining because its effects on the climate will become more visible as the nascent asset class continues growing.
An example is Erik Thedéen, the vice-chair of the European Securities and Markets Authority (ESMA), who said the EU needs to discuss shifting the crypto industry to more efficient technology. Thedéen, who is also the Director-General of Sweden's Financial Services Authority, believes a Proof-of-Stake (PoS) consensus mechanism is a better, energy-efficient alternative.
Before this, he and Bjorn Risinger, the Director-General of the Swedish Environmental Protection Agency, argued that although Bitcoin enthusiasts claim the industry is mostly powered by renewable sources, Sweden needs renewable energy for the climate transition of essential services.
Jinia Shawdagor
Jinia is a fintech writer based in Sweden. With years of experience, she has written about cryptocurrency and blockchain for renowned publications such as Cointelegraph, Bitcoinist, Invezz, etc. She loves gardening, traveling, and extracting joy and happiness from the little things in life.