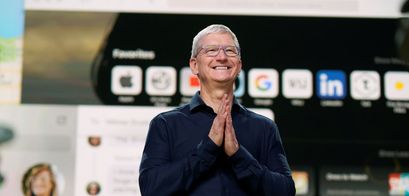 Apple's Q1 2022 Gross margin hits 5 year high of 44%

Elizabeth Kerr
Last updated 15th Dec 2022
Apple's 2022 first fiscal quarter results are the best the firm has recorded in half a decade.
Buoyed by record-breaking revenues, the firm saw its gross margin rise to nearly 44%.
The Company's CEO Tim Cook has attributed the growth in profitability to the firm's innovativeness.
Apple's 2022 first fiscal quarter results are the best the firm has recorded in half a decade. According to a banklesstimes.com data presentation, Apple's gross margin was 43.8%, buoyed by an 11% jump in its previous quarter's revenues. That was a 4% increase from its Q4 2021 figures of 39.8%.
It's important to note that Apple's fiscal Q1 2022 coincided with Q4 of the 2021 calendar year. The tech giant announced revenues of $123.9B for the quarter. Additionally, the firm's net profit for the quarter was $34.6B. In contrast, its Q4 2021 revenues and net profits stood at $111.4B and $28.8B, respectively.
Apple achieved those results despite supply chain constraints, including chip shortages. It grew its active devices to 1.8 million, another record. That came with increased revenues in almost all of its product categories.
What's behind Apple's impressive returns?
The company attributes its impressive performance to several factors. Chief among them was the all-time revenue record that its iPhone unit set. The unit earned Apple $71.63B, having grown 9% in YOY terms. Apple pins this success to its iPhone 13 model, which it says contributed 71% of its U.S sales.
Additionally, it made impressive gains in its Mac sales. Apple's data indicates that it made $10.85B from that unit's sales. Those grew by 25% in YOY terms, bolstered by robust demand for the MacBook pro. The Mac unit also registered a record number of upgrades in the last six quarters.
The wearables, home and accessories, and Services units also registered significant gains contributing $14.7B and $19.5B in sales. Apple's only blemish was a 14% YOY decline in iPad sales to stand at $7.25B.
Again Apple has been building up strategic partnerships with leading firms. Its enterprise customers have shown a growing preference for M1-powered Macs. Shopify, for instance, is upgrading all of its global workforce to the product. Deloitte is also expanding its Mac Employee Choice program.
Towards a better world
Apple's chief executive has spoken of his pride in the achievement. He applauded the company's staff for the innovative line of products that made the feat attainable. He further noted that the performance was better than they had anticipated.
Moreover, Cook appreciated Apple's customers for their response to its products. Besides the record-breaking revenues, the firm also registered the best ever customer satisfaction scores of 98%.
The CEO also reiterated the company's commitment to helping build a better world. Apple is pushing towards attaining carbon neutrality across its ecosystem by 2030. It is also increasing its investments in education while championing racial equity and justice.

Elizabeth Kerr
Elizabeth is a financial content specialist from Manchester. Her specialities include cryptocurrency, data analysis and financial regulation.