Top Countries Leading in Cryptocurrency Adoption (2022 Data)

Stephen Ngari
Last updated 16th Feb 2023
Crypto adoption rates denote how widely cryptocurrencies are accepted globally and while mainstream cryptos often only mention Bitcoin, and Ethereum, there are tens of thousands of crypto projects each with different use cases.
Apart from common usage, some consumers consider digital coins a form of investment. They hold their crypto either for the long or short-term with the aim of realizing profits.
Unlike stocks and bonds, governments don't have control over cryptos; therefore, individuals and institutions can use and trade crypto with freedom. The fact that many platforms offer exchange services has driven the adoption of cryptocurrencies. Also, companies such as Tesla, PayPal, and Mastercard have buoyed the uptake of cryptocurrencies. Their crypto-tolerant approach seems to resonate with the masses.
Crypto Adoption Insights
Global crypto adoption rose by over 880% in 2021, according to research conducted by Chainalysis. The change is even more significant when compared to data from 2019, where there is a 2300% increase.
The main research metrics for this data centered around the overall crypto activity, volume from peer-to-peer (P2P) exchange, and volume from non-professional traders.
You might expect countries like the USA and the UK to be leaders in cryptocurrency uptake. However, data from Statista and Chainalysis show otherwise. Countries in Asia, Africa, and Latin America lead in the adoption, especially when it comes to individual investors. The dataset correlates with information from exchanges and on-chain providers— more accounts were opened within this period, as well as many crypto wallets.
P2P Platforms Powering Adoption
Countries from the emerging economies showed a lot more activity, especially on a P2P basis. In contrast, institutional traders primarily spurred the adoption in developed economies.
Data from crypto trading platforms shows activity heavily skewed towards P2P platforms in Africa and Asia. The majority of these transfers are under $10,000.
Countries like El Salvador have recently adopted Bitcoin as their legal tender due to weak currencies.
Leading Countries
Like the dollar, most cryptos operate on a global scale, easing the purchase of goods and services globally. Most consumers also view cryptocurrencies as a means of improving financial inclusion to underbanked and underserviced populations.
In Europe, the UK and Switzerland top the ranking, although large hedge funds facilitate adoption.
English-speaking countries, the US, UK, and Australia lead in crypto adoption.
The US leads by far in North America while China and Russia still hold significant portions of the crypto market. However, institutional and professional traders lead in purchasing and using cryptos in these countries. Crypto exchanges form popular means to acquire cryptos in US and Russia.
The numbers in China have been affected by the crypto ban imposed in the last quarter of 2021. The country slipped to the 13th position. Activity on the P2P marketplaces and exchanges drastically reduced, placing the country north of the 100th position in P2P trading.
Numbers from the US have also gone down. The country now ranks 8th down two places compared to 2020.
Japan recorded the lowest adoption rates at 4%.
In Europe, 11% of the respondents from Greece owned or used cryptos. This was the highest in the EU.
Emerging and Developing Economies
Vietnam, India, and Pakistan lead the way, according to data from Chainalysis. The population in these economies holds a different view to crypto holding, especially Bitcoin. Many see it as an instrument for saving, money transfer, and business transactions. In the Philippines, some crypto exchanges have licenses to function as remittance companies.
However, consumers from Eastern Europe see crypto as a means of avoiding financial institutions and tax evasion.
The acquisition of crypto is powered by P2P marketplaces such as Paxful and LocalBitcoins. These platforms form the principal on-ramp into crypto, especially Bitcoin. The uptake is made sufficiently easy due to the integration of local payment methods.
Data from Statista seems to correspond with these findings. However, in this case, Nigeria, Thailand, and the Philippines are firmly in the lead in crypto adoption.
In Nigeria, 33% of the respondent from a survey by Statista indicated that they owned cryptos.
Nigeria, South Africa, and Kenya lead the pack in crypto adoption in Africa. Argentina and Brazil are the leaders in Latin America.
Top Cryptocurrencies
Although other cryptos like Cardano, Bitcoin Cash, Monero, and Dogecoin are popular, Bitcoin is clearly the leader in adoption and market cap statistics.
Since its launch in 2009 as a payment medium running on a blockchain, Bitcoin's adoption has grown at an average rate of 113% yearly.
About 23.3 million Americans own Bitcoin, although we consider Bitcoin a nascent technological product. Globally, there are 106 million people who have used or owned Bitcoin.
There are currently more than 14,000 Bitcoin ATMs globally.
Ethereum comes in second with over 14 million owners and 10 million users. Apart from being a payment medium, the Ethereum blockchain supports many applications in its ecosystem.
Dogecoin comes in third with at least one million owners and over 4 million users. Many hold this meme coin as a form of investment.
Adoption vs Regulations
Regulators in many countries have been unable to keep tabs on the evolution of cryptocurrencies. The lack of clear regulations is hampering cryptocurrencies adoption. Some quarters view cryptocurrencies as wildly volatile with only sentimental backing.
China and Egypt are some of the notable countries that have instituted regulations against the use and trade of cryptocurrencies.
Experts intimate that clear regulations are likely to encourage the uptake of cryptocurrencies. New and innovative derivative products are likely to come up.
Cryptos for Daily Use or As Assets?
According to the survey by Statista, consumers in Europe are likely to use their digital coins as a form of investment. The biggest crypto hedge funds based in Europe provide sufficient evidence for this data.
Although on a smaller scale, developing countries such as Nigeria, where consumers only buy fractional crypto shares, seem to prefer crypto for investment. Other countries like Vietnam have banned the use of crypto as a payment medium, therefore leaving it purely as an investment.
Consumers can easily pay for goods and services with their crypto in the US because the number of merchants who accept crypto is higher.
Top 10 Countries by Crypto Adoption
The survey by Statista polled between 2000 to 24,000 residents in 56 countries. Here are the top 10 ranking countries leading crypto adoption.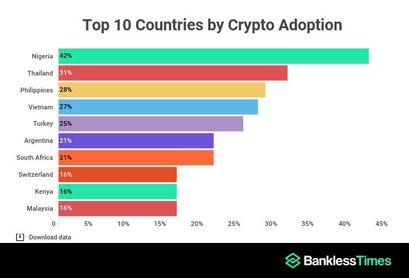 Stephen Ngari
Stephen is a seasoned crypto and fintech specialist with industry experience. Having worked in tech, helping people send money globally and rollout solutions, he understands the impact that tech like blockchain brings to real world issues. He is passionate about crypto, writing and basketball.