Zilliqa price prediction for April: I hate to say this

Crispus Nyaga
Last updated 29th Jun 2022
Zilliqa price went parabolic in March as investors bought the dip.
There is a likelihood that a major reversal will happen in April.
Zilliqa price was the breakout star in March 2022. After being under water for a while, the coin made a spectacular recovery that propelled it back to the top 50. The ZIL token surged to a high of $0.2251, which was the highest point since May 2021. This price was 555% above the lowest level this year, making it one of the best performers.
Why ZIL jumped
There are several reasons why the price of Zilliqa jumped sharply in March. First, as I wrote earlier this week, investors became interested in fallen angels, which they saw as extremely cheap. A fallen angel is a cryptocurrency that was once hot but one whose sentiment faded among investors. Others that bounced back were VeChain, Synthetix, and Filecoin.
Second, the ZIL price popped as investors embraced Bitcoin and other altcoins. Bitcoin jumped to above $48,000 for the first time in months. As a result, it managed to drag other altcoins higher. Its performance was mostly in line with that of US stocks as the Dow Jones and the Nasdaq 100 indices jumped sharply in March.
Finally, and most importantly, Zilliqa rose because of the upcoming launch of Metapolis. This is a brand new metaverse platform that seeks to compete with the likes of Decentraland and Sandbox. If it succeeds, it will be the most successful project built using Zilliqa's platform.
There are also rumours that Zilliqa's developers are looking ahead to the launch of a new upgrade that will lead to faster speeds in the coming months. Historically, coins tend to rise sharply ahead of a major project upgrade.
However, there is a growing possibility that Zilliqa price will underperform in April. It all boils down to psychology among investors. Historically, these pumps are usually followed by a period of dumping as investors take profits. The same happened recently when ApeCoin price popped after its launch. Also, there is the scenario known as buying the rumour and selling the fact.
Zilliqa price prediction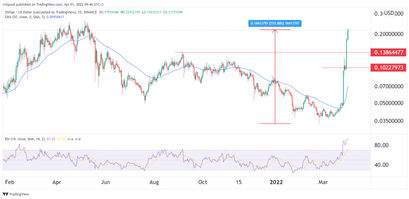 The daily chart demonstrates the strong performance of ZIL in the past few weeks. It is further evidence that anything is possible in the crypto market. The coin managed to move above the key resistance at $0.1386, which was the highest point in August last year. It remains above the 25-day and 50-day moving averages.
Therefore, there is a likelihood that the Zilliqa price will retreat in the first part of April and then resume the bullish trend. Here are some of the best cryptocurrency apps to buy ZIL and other coins.

Crispus Nyaga
Crispus is a financial analyst with over 9 years in the industry. He covers cryptocurrencies, forex, equities, and commodities for some of the leading brands. He is also a passionate trader who operates his family account. Crispus lives in Nairobi with his wife and son.