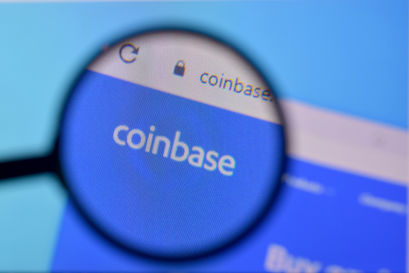 Coinbase Stock Forecast: Tragic Collapse From $430 to $80

Crispus Nyaga
Last updated 31st Jan 2023
Coinbase stock price has plummeted from $430 to $80.
The decline has coincided with the ongoing crypto winter.
Coinbase will publish its quarterly earnings on Tuesday.
The Coinbase stock price has plummeted to an all-time low as cryptocurrency prices crash ahead of the company's earnings. COIN declined to a low of $83.51, which was about 80% from its highest level on record. Its market cap has moved from an all-time high of $72 billion to about $23 billion.
Coinbase earnings preview
Cryptocurrency prices have declined sharply in the past few months. For one, Bitcoin price declined below $30,000 for the first time since July last year. Ethereum declined below $2,300 while Cardano has moved to the lowest level in months.
In total, the combined market cap of all cryptocurrencies has moved from an all-time high of $3 trillion in 2021 to about $1.56 trillion. As a result, the stock prices of most companies in the cryptocurrency industry have declined.
For example, the Coinbase stock price has plummeted by about 80% from its all-time high. Bakkt has fallen by more than 95%, bringing its total market cap to about $886 million.
Similarly, MicroStrategy shares have fallen because of the overall performance of Bitcoin. Miners like Marathon Digital, Riot Blockchain, and Hut 8 Mining have all retreated.
Coinbase, the second-biggest cryptocurrency exchange in the world, will be in the spotlight as the company publishes its earnings. Analysts expect that the company's EPS of 86 cents will be about 71% below where it was in 2021.
They also expect that the company's revenue dropped from $2.5 billion in the fourth quarter of 2021 to $1.48 billion. Nonetheless, it will be better than the $1.8 billion it generated in Q1 of 2021.
The main catalyst for the COIN share price will be the company's active users and its forward guidance. Also, the stock will react to the company's trading volume, which is expected to come at $300 billion, 45% lower than Q4.
Coinbase stock price outlook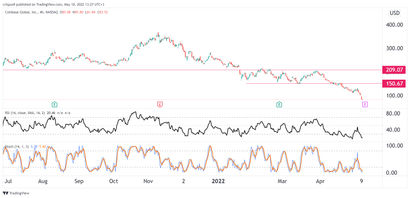 On the 4H chart, we see that the shares have been in a strong bearish trend in the past few months. The stock has crashed from an all-time high of $430 to the current $83. And the situation could continue as the crypto winter continues.
The shares have also moved below the important support at $150, which was the lowest level on March 15th. They are also below the 25-day and 50-day moving averages. Therefore, the stock will likely keep falling as bears target the key support at $50.

Crispus Nyaga
Crispus is a financial analyst with over 9 years in the industry. He covers cryptocurrencies, forex, equities, and commodities for some of the leading brands. He is also a passionate trader who operates his family account. Crispus lives in Nairobi with his wife and son.